Suitcase Recordings
John McKay - Mix Engineer


Do you have a project already recorded, and are interested in Mixing Services?
Interested in Location Record Production in the Phoenix area?
Interested in Recording a Live Gig in the Phoenix area?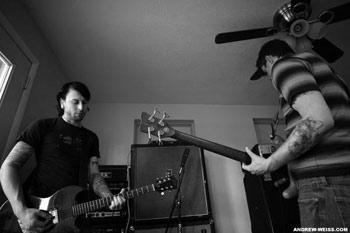 Recording Hellas Mounds - Photo by Andrew Weiss

Read About Some Sessions I've Done (with audio!)

Recording Man About a Dog at Trunk Space
Recording The Earps Live at Hollywood Alley
Recording 'Last Ferry to Cydonia' with Hellas Mounds
Recording 'Pilot to Co-Pilot' with Red Republic

Recording 'Duluth' with Grassroots Campaign

Recording 'UFOs' with Snow Songs

Recording '40 Thousand' with The Blizzard of '77

Recording 'Corpse Smell' with Tweeker Chic

Recording 'Like Knives' with Roman Arms
Simple custom search for recording info
10 Tips to Radically Improve Your Home Recordings
As the owner of a mobile recording studio, a large portion of the work I do is 'Home Recording,' though it's usually at someone else's home! In the past 5 years of doing the location gig, I've come up with a few simple things anyone can do to improve their home recordings a lot. This stuff applies whether I'm recording you, or you're using your own gear. Getting good tracks down is always a good thing...Read More
The Importance of 'Character' in Recordings
One of the things I notice about a lot of home recordings, and even professional studio recordings, is that they lack character. They are technically sound, acoustically neutral, and as a result, pretty boring to listen to...Read More
8 Tips For Choosing The Right Recording Studio
While it might seem like choosing the right recording studio for your project is a straightforward process of finding the studio with the best price, there's much more to it than that...Read More
There's No Such Thing as a Demo

Bands often use the term 'demo' to describe what they're looking to do. "We want to record a 4 song demo." The thing is, though, that 'demo' is an inaccurate term, that leads to an...Read More


A Day in the Life

I often talk to bands about recording, and some of the questions I hear most often are:
"How does this work?"
"Do you record everyone at once?"
"Can we do overdubs?"
In an effort to answer some of these questions...Read More

So Are You Going To Finish Your CD or What?
Every band I know is always in some stage of the CD production process. But often they've been in the same stage for a long time, sometimes a VERY long time! The key to getting your CD finished...Read More


Bringing In The Pro's

In this era of affordable recording equipment and software based recording workstations, many artists are choosing to record themselves at home. While it is possible to get very good results in a home studio, often projects are less impressive than they could be...Read More


Acoustical Spaces and Why I Don't Use Reverb (much!)

Acoustical Space is the term used to describe the apparent environment that a sound "appears" in. That is to say, the sound of the room, the reverb, the materials, etc. A vocal bathed in short bright reverb sounds like it was recorded in...Read More


8 Steps to a Better Session

Recording is a time-intensive experience, and problems that arise often seem magnified. No one wants to wait for an hour while the guitar player runs to Guitar Center for new strings. So, to keep things going smoothly...Read More


Getting Your S*** Together

The one thing (besides your ability to play) that will heavily impact your live and studio work is your equipment. Do you have a weak link in an otherwise strong chain? To find out...Read More
How To Record a Kick Drum
I was recording a band yesterday, and thinking about setting up my mics, etc. I've worked with these guys before, so I have an idea what they sound like, but the drummer had a new kit...Read More
Other Recording Studios in Phoenix


Cheaper Milk/Good Morning - Man About a Dog
Forgot Your Letter - Snow Songs
Last Ferry to Cydonia - Hellas Mounds
Bushywinks - Affirmative Action Figure
Suitcase Recordings - Mobile Recording Studio Phoenix, AZ